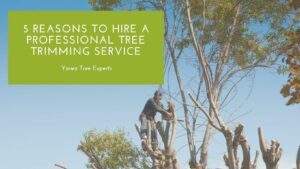 The most common-sense answer for needing a tree trimming service is that it can help you keep the trees around your property in good shape and keep them from dropping any unwanted and very heavy branches on a home during the fall or winter. If your first question after that is 'what's the best tree service near me', then you're already headed in the right direction.
Tree trimming can be a DIY project for some homeowners, but professional tree cutting and trimming services are often the best route to go with. This way, you can work with a trained expert who knows the practice of removing limbs and branches safely and you will be saved the time and trouble of completing the work yourself.
After all, trimming your trees isn't quite enough since the branches will need to be removed and hauled away, and it's likely that the average homeowner doesn't know how to properly prune and shape the trees in their yard.
A tree trimming service will train their people on how and when to cut certain limbs so that the tree can be allowed to thrive once it's been trimmed, adding value to the home.  There are several reasons to employ a professional tree trimming service, as it can be a difficult job to handle without proper experience and equipment.
Below are a few reasons why you should think about researching various tree cutting and trimming services for your trees before attempting to do the work yourself.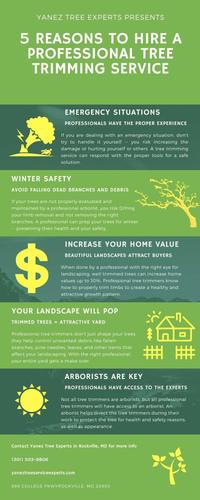 1. A Tree Trimming Service in an Emergency is Safer When Completed by a Professional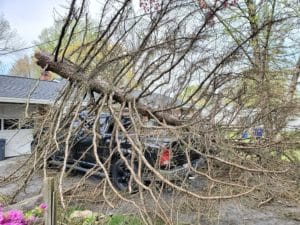 When typing in a Google search 'tree trimming services in my area' or 'tree trimming service near me', it's wise to do your research and read testimonials before placing a call.
A lot of tree trimming services may be seasonal since many professionals will prefer to trim before the winter months in order to prevent any possible accidents that might be caused by heavy branches becoming brittle and falling.
There are emergency cases that some tree cutting services will respond to at any time of year, such as storm impact or other weather damages. Always ensure you know if your local tree trimming company responds to emergencies, and utilize them when possible to prevent further damage.
2. A Tree Cutting Service is Recommended to Keep Your Home Safe During the Winter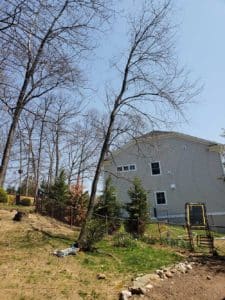 Tree cutting services tend to operate more often in the Summer or Spring months to ensure that trees are healthy before heading into winter. Depending on the area you live in, you may want to schedule annual service for the trees in your yard.
Branches can become brittle or weak in winter, and if not properly cared for you may risk branches falling in your yard or onto your home. Always speak with your local tree trimming company once a year to ensure falling snow won't weigh down weak branches and cause a dangerous break.
3. Professional Tree Trimming Services Can Increase Your Home Value
Have you ever seen a property where the trees have been allowed to grow wild, with branches hanging down, some of them broken, and in general appearing like a giant mess?
Tree cutting services can help your property in a big way by taking off limbs that are either dead, dying, or are simply a hazard that will need to be dealt with later. The average tree cutting service can add a great deal of value to your home by creating something that looks less like the haunted forest and more like something that people would gladly spend a small fortune on.
Tree cutting and trimming can do wonders for the overall look of any property, which in turn increases its value.
4. Tree Cutting Services Will Provide You an Expert Arborist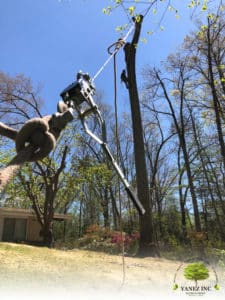 One common fear of many homeowners is that a tree-cutting or trimming service might employ cheap labor that will hack and slash their trees and ruin them in the process.
The upside is that by looking around and doing your research, it's possible to find companies that hire or at least work with trained and certified arborists that know exactly what they're doing and are able to determine how best to proceed with any tree trimming.
Such individuals are fully capable of seeing the health of your trees and can guide and direct trimmers and cutters on how to and where to apply their skills while maintaining the overall health of the tree. This will preserve the appearance of your landscape and not cause any undue damage.
5. Improve Your Landscape with Local Tree Trimming Services
Considering the fact that trees drop leaves, needles, pinecones, twigs, and sometimes full branches it's easy to assume that they can do a great deal of damage to your yard as well as your home.
The debris that can gather over a period of time can kill off your lawn, do irreparable damage to the grounds, and even create a fire hazard that's best avoided during dry spells.
A tree trimming service is primarily there to trim your trees and clear away the limbs they take, but it's also possible to find a company that's willing to improve the look of your landscape as well, as several companies will perform various services that can amount to a full landscaping service that will prove to be a big benefit to your home. Take your time, do your research, and find the right tree trimming service for your needs.
Wrapping Up
A good tree trimming service might not be needed if the homeowner is capable of tackling the job, but in the interest of keeping your trees healthy, it might be a good idea to research several trees trimming sites and find the best for what you need.
With the right company, you can increase your home value, improve your landscape, and have a safer yard year-round.